There are plenty of options to build a website these days. For the most part, you want to choose the best option for your business. Ionos (by 1&1), which has been around for many years, is one of them. Throughout this 1 and 1 Ionos review, I'll discuss what this website builder can do to make your business stand out online.
Note: We may include products or services that will be helpful to our readers. This post may contain affiliate links. For more information, please review the affiliate disclosure page.
What is Ionos (1&1 Ionos)?
Ionos (formerly 1&1 Ionos) is a web hosting and cloud partner company that's been around for over 30 years. Specifically, they help small and medium-sized businesses provide solutions for their website needs.
Based in Germany, Ionos is one of the largest hosting companies in Europe. They host more than 12 million domains throughout the United States (US) and Europe.
To modernize their brand, they changed their name to just Ionos (originally known as 1&1 Ionos). Ionos offers a wide variety of services, such as domains, eCommerce, web hosting, and much more.
For the purpose of this review, I will be going over the website platforms they offer. After that, I'll go over whether Ionos is the right choice for your business.
If you're in a hurry, here's a list of the pros and cons of Ionos. Also, there's a brief video about Ionos and their website builder service.
Pros & Cons
Pros
Page speed is fast (quick loading times)
Design service is affordable
Great user interface
Cons
No free plan or free trial
Customer service ok
Prices increase after your first year

Ionos website platforms: How do they work?
Ionos provides four choices for building a website. Whether you're a beginner or someone who's more advanced with website design, there are good options to select from.
MyWebsite Now
This one is the quickest way to set up a website in minutes. If you're looking to build a website on your own, MyWebsite Now is the quickest way to get a website up and running.
Setting up a basic website is done in three steps:
a.) Pick a template (all of them are pre-designed and ready to go)
b.) Add your content (you can edit and write content in the editor, along with adding images)
c.) Personalize the design (designed to what you want out of the website)
MyWebsite Now is best for those who want to set up a website quickly or have something more basic. If you're looking to have an online presence, this option is the best one to get started with a website.
MyWebsite Creator
If you're looking for something more concrete, this option is for building a fully, customizable website. For those who want full creative control, there are many options to choose from. Some of the features can be personalized, such as animations, video backgrounds, and more.
If you wanted to build an online store, you can upgrade to MyWebsite eCommerce. This option is good if you have products you want to sell online. 
MyWebsite Creator is best for those looking to build a fully-scaled website.  If you want more control and advanced features, this option may be the best fit for you.
MyWebsite Design Service
If you're short on time, this option allows you to have the experts build out your website. If you'd rather have a professional do it for you, it can be a good time-saver.
With a website, you get up to seven pages built by Ionos experts. Also, they'll work on the website's SEO presence (particularly for being seen on Google). Your website will be maintained on a regular basis so that it stays current and updated.
This option is best for businesses looking to hire someone to build out their own website. For the most cost-effective, this option helps save time while you focus on growing your business.
WordPress
If you're familiar with WordPress, this one is great for writing blogs or building basic online stores. With a WordPress-backed website, it's quick to set up. As part of the setup guide, you get automatic updates, scheduled backups, and intuitive editing.
Through WordPress, your website will get faster loading times. That's good for a better user experience, which helps keep visitors on your website longer. As someone who's used WordPress for a few years, I can say having a WordPress website helps with better speed overall.
This option is best for those who understand WordPress and used it before. Additionally, it's good if you want to have more control over your content and quicker speeds for a better website experience overall.
Unsure about which one?
If you're not sure which option is the best fit for you, they have a section where you answer some questions about your website needs. It helps you figure out which option is the right one to go with, whether you want a simple webpage or a full-scale online store.
Also, Ionos has an eCommerce component as part of its services. It helps you build an online store, with a lot of features to select from.
Since there's a lot to review out of the eCommerce portion, I will write a separate review on the online store builder for another time. But it's another option to start or expand an eCommerce store if you have one.
Can Ionos help you create fast, reliable websites?
Ionos has a nice selection of website platforms to create a stunning-looking website. The websites are very fast (quick loading times), which is important for getting visitors to your website. 
Also, you have the option to have Ionos experts build a website for you. If time is an issue for you, that may be the best option while you work on other areas of your business.
As mentioned earlier, you can upgrade to an eCommerce plan if you're looking to build a large online store. If you have an existing online store, consider upgrading to make the most out of the advanced features available.
Who is Ionos best suited for?
Although they're open to all types of businesses, Ionos focuses on helping small and medium-sized businesses build functional websites. With their website builder options, there's something for everyone to choose from.
If you're looking to build a website quickly, MyWebsite Now is a great choice. If you want something more advanced or looking to have someone else build your website, MyWebsite Design Service is an ideal choice to pick from.
Pricing
Ionos has a couple of options on par with their website platforms. For each plan, you can get a free domain for one year and 24/7 customer support. If you're satisfied with one of their plans, they come with a 30-day money-back guarantee.
MyWebsite Now (starting at $5/month)
MyWebsite Creator (starting at $5/month)
Design Service (starting at $30/month)
WordPress (starting at $3/month)
-Pre-built sections, shapes, and color palettes
-Personalized content
-Better design control

-Expert website design 
-Regular maintenance service
-SEO services

-Open-source CMS
-WP community

Prices Accurate As of July 2022
These plans are part of the starter choices; in other words, if you choose a plus or premium option, the prices will be higher if you opt for more advanced features.
Is Ionos worth it?
Rating: 7/10
Ionos has a good selection of options to help you build the best website possible. Whether you want to create one now or hand it to the experts, Ionos can help with that.
One thing Ionos doesn't offer is a free plan or some form of a free trial. It would be nice to have, but they do offer a 30-day money-back guarantee.
Also, the customer support is reportedly ok. Some customers have complained about long wait times than usual (whether through phone or live chat). It's stated they're available 24/7, but that may not always be the case.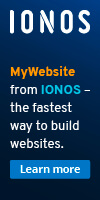 My thoughts
When I tried out the website builder, I was initially impressed. The features are easy to use, and they're very helpful in making a functional website.
What I didn't like where the price increases that go into effect after your first year. For example, if you go with the MyWebsite Now (plus the starter option), you can pay as little as $1/month for your first twelve months.
But after that, the price goes up to $12/month. So that's a big jump after trying it out your first year. So there's not much transparency when it comes to the pricing options.
Although it may be a great choice for scaling (or something more advanced), I do not recommend it for those looking for something basic. If you don't want a full-scale website with more advanced options, it's best to look somewhere else.
Final Words
Ionos is a website design and hosting service that's been around for a long time. They rebranded their business model over the years, which helps them to continue providing convenient services.
If Ionos is something you find a great fit for, consider checking out one of their website-building options. If one of their plans is not the best fit for your business needs, you have that 30-day money guarantee. So give it a shot today.
Your Turn: Is Ionos worth giving a try?
I would like to get your thoughts on Ionos in general. Were you familiar with Ionos (or knew about 1&1 Ionos)?
Do you like that their websites are fast and quick to upload? Which one of the options do you find the most useful?
What don't you like about the website builder? What can be improved with Ionos's services?
Feel free to share your thoughts by leaving a comment below. I look forward to reading your responses, and I'll gladly respond promptly.
If you got value from this article, please bookmark this website to visit later for new posts every week.

Spread the word to others. Sharing is caring!

For the latest videos that come out every week, subscribe to the YouTube channel. Also, be sure to check out our new space on 
Twitter X!

YouTube

Twitter (X)
Eric is the owner and chief editor of notimekillers.com. 

He takes great pride in helping people manage their time and grow their businesses. 

Eric is a firm believer in financial and time freedom, as he believes in financial independence and taking ownership of your time. 

"Time is your most important asset. It can be your best friend or worst enemy. How you use your time can shape the future you desire to have." 

In his leisure time, Eric loves to write and read whenever possible. He enjoys going for long walks outdoors while doing in-home workout videos every week. 

You can also connect with Eric via LinkedIn.